By Alessia Grunberger, CNN
Updated 4:00 AM ET, Thu April 5, 2018
Read this article online
(CNN) Almost immediately, Kate was hooked. She'd seen advertisements for the hit Netflix series "13 Reasons Why" and heard that some friends were watching it, so she gave it a try.
"Within one or two episodes, I was completely hooked and was super into it and felt really emotionally involved in it," she said. "And, so I, essentially, sped through the whole show … which is not easy to do when you are working and also going to school. But I ended up doing it."
Kate, 25, is a victim of domestic abuse and sexual assault, and she has depression, anxiety and post-traumatic stress disorder. CNN agreed to use only her first name in order to protect her privacy. She didn't watch "13 Reasons Why" because it was enjoyable as much as for its relatable — albeit graphic — content.
The 13-episode drama, which was released in March 2017, follows the fictional story of a teenager named Hannah Baker who takes her own life, leaving behind 13 audio recordings on cassette tapes. It sparked a national debate about mental health and suicide and prompted some mental health professionals to warn that "13 Reasons Why" could pose risks for viewers, especially for those already struggling with mental health issues.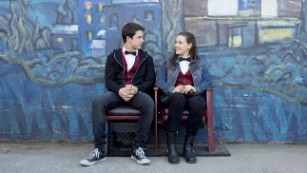 "Ideally, we hope that young people will avoid Season 1, as it was proven to increase Google queries about suicide, and several local mental health service providers have reported increases in instances of suicidal thoughts and suicide attempts among their clients as a result of the series," said Laura Horne, director of programs at Active Minds, a mental health organization that works with young adults.
Fans of the bingeable show, however, commend the series for raising awareness about suicide and shedding light on how to spot warning signs of depression or suicidal thoughts. A second season is planned, but its release date has not been announced.
In response to the controversy, Netflix has taken extra steps to provide viewers with more resources on mental health, bullying and other tough topics. The changes, which are the result of a study commissioned by Netflix to look at the impact of the series, include the addition of a warning video that will air at the start of each season, an after-show that features the cast and experts, and more crisis information and suicide prevention resources online at 
13ReasonsWhy.info
.
"Soon after the Season 1 launch, we saw global conversation explode on the controversial topics covered by the series and understood we had a responsibility to support these important discussions," Netflix said in a statement. "To understand whether and how the series opened dialogue between teens and parents, we commissioned a global research study with Northwestern University's Center on Media and Human Development, which has an active research focus on the impact of media on children and teens."
Viewers want more resources
The study found that "nearly three-quarters of teen and young adult viewers said the show made them feel more comfortable processing tough topics."